My precious figures finally arrived! I almost hugged over the postwoman when I noticed her down the yard with a big box in her hands, guessing it had to be my newest Wargames Factory WSS Infantry set. She's now surely thinking I'm completely out of my mind, but I don't care at all haha because my toys are finally with me!
I ordered four boxes from Stafford Games who did have excellent service. Initially, the boxes were not all in stock, but after a call with Roland I was assured the stock was coming in promptly and that my order was being sorted. It did take a couple of days longer than I expected, but it was due to circumstances out of Stafford Games' control. I'd definitely order from them again in the future (and it was nice chatting with Roland too).
The boxes were well packed in a nice, sturdy box and arrived in Malta safe and sound without
damage.
Why Did I Pick Wargames Factory Figures?
I hunted high and low for some good figures to form the backbone of my Imagi-Nation armies. There are some beautiful metal miniatures out there, but when I realized I needed about 240 infantry to make two large armies, I also knew I would have to sell a kidney (and get a good deal on my spleen) to afford them.
Wargames Factory offer a box of 36 infantry for around 15 GBP, which works out about 80 GBP for all the infantry. In addition, the Wargames Factory figures are customisable, so officers, standard bearers and drummers can all be built from the sprues.
What's In The Box?
Now you know why I chose this manufacturer, let's take a look at what you get in the box.
Inside A Box Of Wargames Factory WSS Infantry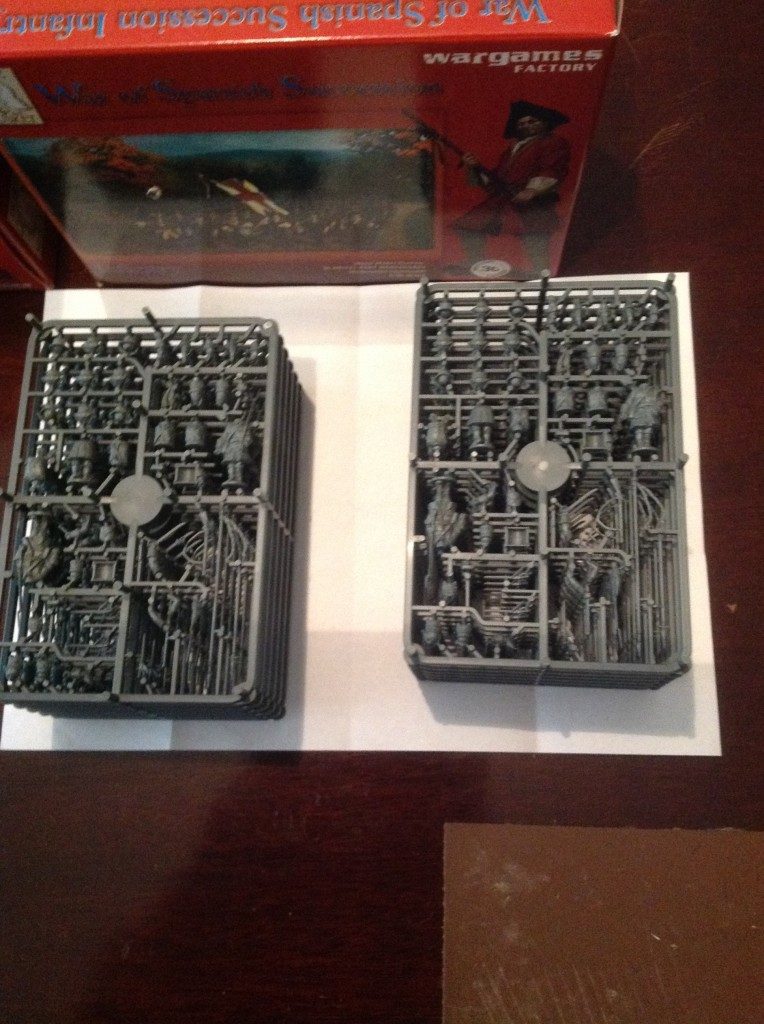 There are 12 sprues, each containing 2 marching bodies that just need a head to be glued on (so that gives you 24 super fast to assemble infantry). You all get a pair of legs on each sprue, with a choice of 4 torsos for those legs. This allows you to make officers and standard bearers. Each sprue also has a drum (it's in two halves), and 15 heads. The heads allow you to create different regiments and troops types really easily. Three of the heads on each sprue are wearing standard tricornes, allowing you to make 36 regular infantry figures if you wish. There is also a bare headed one with an elaborate wig, perfect for officers.
Grenadiers are catered for by having two tall mitre wearing heads, two short mitre wearing heads, and a big busby style head on each sprue. There is also a fur lined hat, and some soft caps, really allowing you to create any look you like.
The sprues also have numerous arms so you can create infantry that are firing muskets, marching, holding pikes, or even waving swords.
In short, the sheer variety you get within a box is fantastic.
Detailed shot of sprue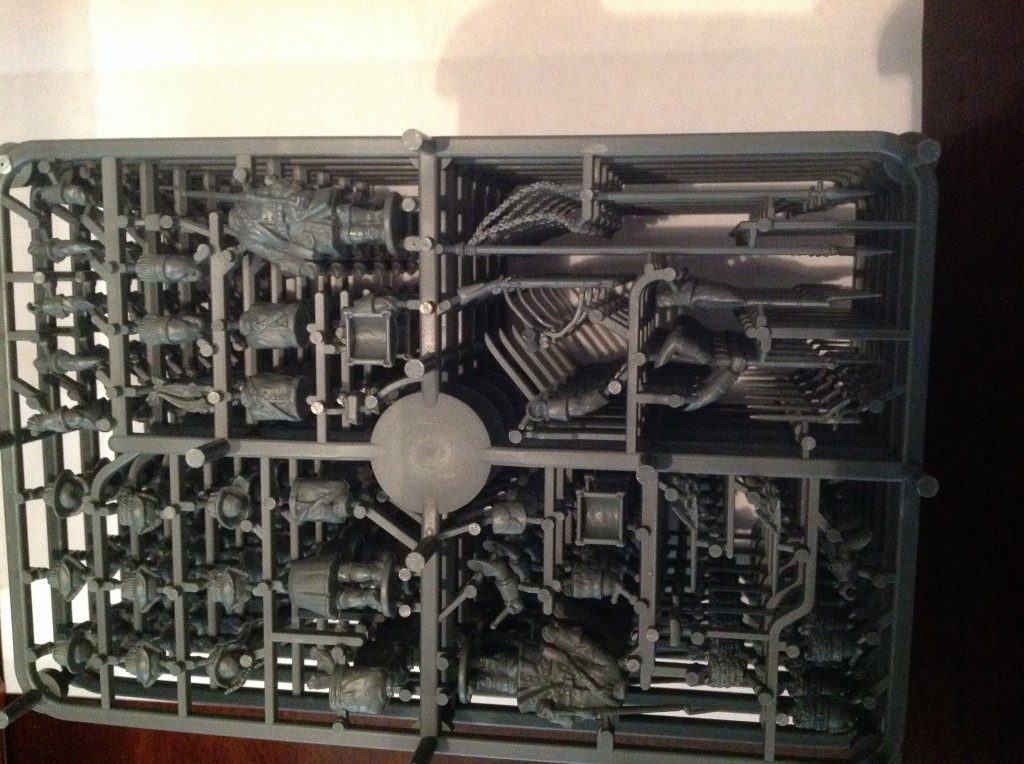 What About The Quality Of The Figures?
I have read some complaints on forums about necks being too big and eyes being too big. On close examination, I can see the eyes are a little bulging on those items, and will need a little careful painting not to look like they are frogs. However, in massed units I don't see it being an issue. The necks are a tiny bit long. Again, on a wargames table with made up units, this won't be an issue.
Personally, I bought these figures to use for wargaming, not painting for a display case. From that aspect they are absolutely what I need them to be.
I've also heard that the bayonets can be easily broken on these figures. I have tweaked and pinged them, but can't see why people would say that. The Wargames Factory WSS Infantry seem perfectly solid to me.
Overall Rating
I think the Wargames Factory WSS Infantry figures are a real boon to wargamers. They are easy to put together and look great. They give you huge variety in the way your units look on a wargame table, while also no breaking the bank.
I will certainly be buying more of them, as well as their cavalry and artillery lines.